BNR – According to reports, Meta has presented employees' designs for a social network meant to vie with Twitter. It may enable users to follow profiles they currently follow on Meta's picture-sharing application, Instagram.
It may also help them to gain followers through decentralised networks such as Mastodon. A Meta representative verified that the platform was in the works.
"We're exploring a standalone decentralised social network for sharing text updates," they said. "We believe there's an opportunity for a separate space where creators and public figures can share timely updates."
Chief Product Officer at Meta Confirms
Chris Cox, Meta's chief product officer, stated that the platform was being developed. Meta hopes to deploy it soon enough, though there was no mention of a specific launch date. Some speculate that it might happen as soon as the end of June.
Screenshots of the application have leaked online and have been given internally to staff, presumably offering a sense of how it would look. According to sources within the firm, the leaked screenshots are authentic.
If they are, anybody who has used Twitter would recognise the structure of this new app.
P92 is the working term for the social media network. It may prove to be a more formidable competitor to Elon Musk's Twitter than BlueSky or Mastodon.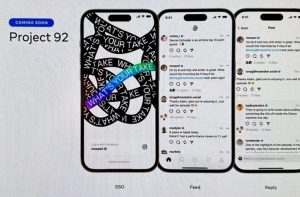 While both have attracted people, who were unhappy with Twitter, it is tough to start over on another social platform and develop a community.
The Instagram community, on the other hand, is massive. Meta claims to have nearly two billion users, dwarfing Twitter's estimated 300 million. If even a quarter of Instagram users decide to try P92, it will quickly overtake its elder rival.
Meta claims it is inspired by other companies. Stories on Facebook is modelled like a Snapchat feature, and Reels on Instagram is remarkably similar to TikTok.
Twitter Scrutiny
Twitter has been under heat lately for its lack of moderation. The corporation stepped down from the EU's voluntary disinformation code in May. Furthermore, Twitter's moderation has apparently been lowered under Musk, allowing for a surge in the propagation of misinformation.
On the other hand, Musk claims that since taking control in October 2022, there has been less disinformation than more.