President Donald Trump declared on July 4 that the America he is working for "wants unity," and that "no matter our race, color, religion, or creed, we are one America, and we put America first."
The president was speaking on Saturday evening from the White House South Lawn in Washington following a performance from the military band, flyovers by B-52 bombers, F-35 fighter jets and more, as well as parachute jumps.
Trump started by thanking the scientists and researchers "around the country and even around the world" for their courageous efforts in battling the virus, and welcomed some who were attending the event.
"These are great and brilliant people. And brave people," he said.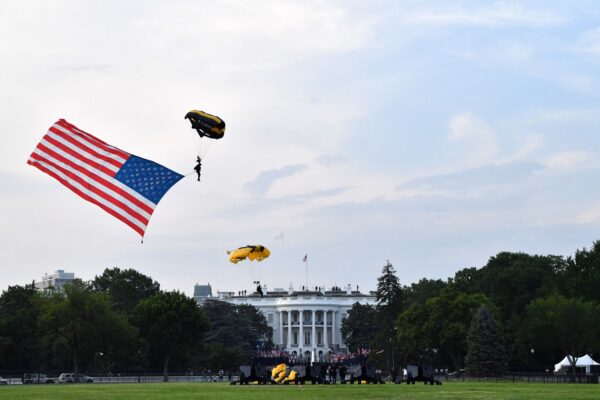 As "the land of the free" continued with celebrating its 224th birthday, the president again emphasised his vision for unity, echoing his earlier speech at Mount Rushmore on the eve of the Fourth of July weekend celebrations during which he talked to the great spirit of the Declaration of Independence that he said enshrines that "all men are created equal." He also said that his administration was bringing Americans together in the face of a "left-wing cultural revolution" designed to "overthrow the American revolution."
On Saturday, Trump revisited similar themes in his "Salute to America" speech.
"Our movement is based on lifting all citizens to reach their fullest God-given potential," the president declared.
"Never forget, we are one family and one nation. This rich heritage belongs to every citizen, young and old, first generation American. We want to go from first generation to 10th generation. It matters not. We are American. We are from the USA. This great heritage belongs to citizens of every background and of every walk of life."
Trump again referenced the counter-culture narrative from people who "foment hate, discord, and distrust" and, according to Trump, want to demolish America.
"In every age, there have always been those who seek to lie about the past in order to gain power in the present," he said, after referring to the radical left, Marxists, anarchists, agitators, looters, and people who "have absolutely no clue what they are doing" earlier in his speech.
"Those that are lying about our history, those who want us to be ashamed of who we are are not interested in justice or in healing. Their goal is demolition.
Trump claimed that under his administration, "Our goal is not to destroy the greatest structure on earth, what we have built, the United States of America." He added that his administration wants to work together with the people to defend America and "build a future where every family is safe, where every child is surrounded by love, where every community has equal opportunity and every citizen enjoys great and everlasting dignity."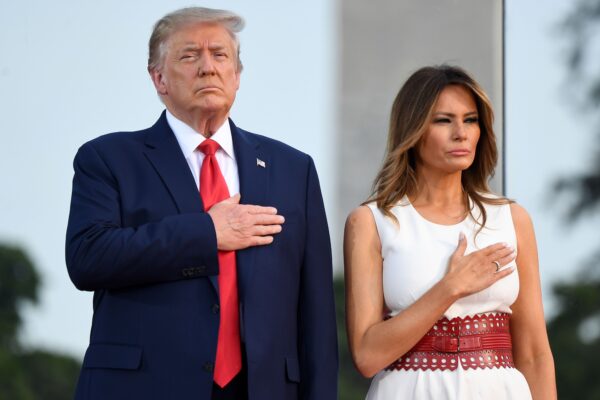 Addressing the riots and wave of statue demolition sweeping the nation, the president said: "Our past is not a burden to be cast away.
"Let me also say a word to those in the media who falsely and consistently label their opponents as racists, who condemn patriotic citizens who offer a clear and truthful defense of American unity," he said.
"We want a clear and faithful defense of American history, and we want unity," he stated. "When you level these false charges, you not only slander me, you not only slander the American people, but you slander generations of heroes who gave their lives for America. You slander people much braver and more principle than you.
"Youre slandering the young men who raised the flag at Iwo Jima and those who perished fighting for freedom in the Civil War. You slander them. You are dishonoring their great legacy and their memory by insisting that they fought for racism and they fought for oppression.
"They didnt fight for those things. They fought for the exact opposite. We will not let the legacy of these heroes be tarnished by you," he said. "The more you lie, the more you slander, the more you try to demean and divide, the more we will work hard to tell the truth, and we will win.
"We want to bring the country together, and a free and open media will make this task a very easy one. Our country will be united after all."
Read MoreThe Lingering Ghost of the Cultural RevolutionThe Great Proletarian Cultural Revolution Arrives in AmericaChinas Cultural Revolution Might Soon Reappear in Tibet
The president proudly stated, "244 years ago in Philadelphia, the 56 signers of our Declaration of Independence pledged their lives, their fortunes, and their sacredRead More From Source
[contf]
[contfnew]

[contfnewc]
[contfnewc]