The US President has ordered NASA to plan a new manned mission to the Moon, 45 years after the Apollo 17 mission in 1972.
Mr Trump has signed a policy directive "to lead an innovative space exploration program to send American astronauts back to the moon, and eventually Mars".
The announcement was made by White House spokesman Hogan Gidley and followed by a speech by Mr Trump.
He was joined by Harrison Schmitt, known as "Jack", who is the last living crew member of the Apollo 17 mission, which landed in 1972, and Buzz Aldrin.
At the White House, Mr Trump said: "Forty-five years ago, almost to the minute, Jack became one of the last Americans to land on the Moon.
"Today we pledge that he will not be the last, and I suspect we will be finding some other places to land other than the Moon.
"The directive I am signing today will refocus the space programme on human exploration and discovery.
"It is an important step in returning American astronauts to the Moon, for the first time since 1972 for long time exploration and use.
"This time we will not only plant our flag and leave our footprint, we will establish a foundation for an eventual mission to Mars and perhaps someday to many worlds beyond."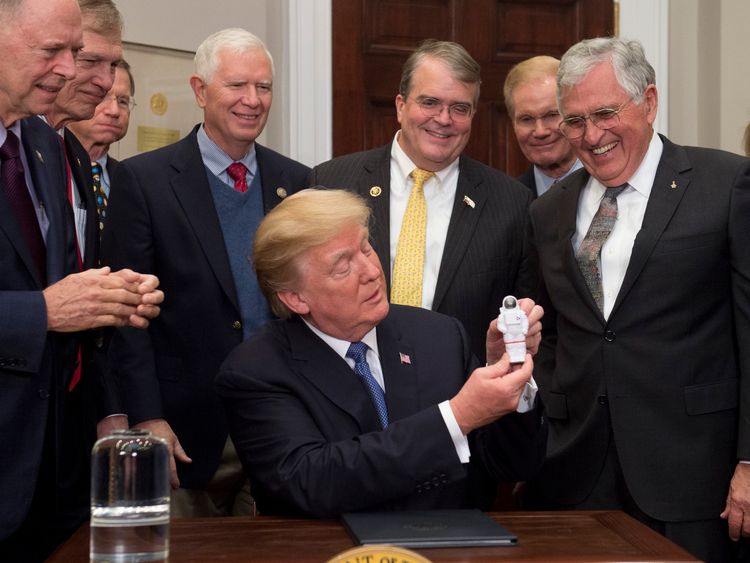 He said the mission would inspire others and showed NASA would keep the pioneer spirit alive.
He added: "Today the same spirit beckons us to begin new journeys of exploration and discovery, to lift our eyes all the way up to the heavens and imagine the possibilities waiting in those big beautiful stars if we dream big.
"This is a giant step towards that inspiring future and reclaiming America's proud destination in space."
Mr Trump said America was the leader and would remain the leader.
More from Donald Trump
Vice President Mike Pence added that the directive would secure new jobs and would mean space exploration was led with American rules and values.
Mr Schmitt was the first scientist-astronaut to land on the Moon in the December 1972 mission.
[contf] [contfnew]
[contfnewc] [contfnewc]
The post Trump orders NASA to return to Moon appeared first on News Wire Now.