President Donald Trump announced eight House Republicans to join his legal defense team ahead of a Senate impeachment trial.
Related Coverage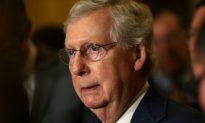 McConnell Releases Rules for Senate Impeachment Trial, Allows Vote on Witnesses
"Throughout this process, these Members of Congress have provided guidance to the White House team, which was prohibited from participating in the proceedings concocted by Democrats in the House of Representatives," read an announcement from the White House on Monday.
"The President looks forward to their continued participation and is confident that the Members will help expeditiously end this brazen political vendetta on behalf of the American people," it adds.
The eight members are Doug Collins (R-Ga.), Mike Johnson (R-La.), Jim Jordan (R-Ohio), Debbie Lesko (R-Ariz.), Mark Meadows (R-N.C.), John Ratcliffe (R-Texas), Elise Stefanik (R-N.Y.) and Lee Zeldin (R-N.Y.).
Trump was formally charged on Dec. 18 by the Democrat-majority House on two articles of impeachment (pdf)—abuse of power and obstruction of Congress.
Read MoreGuide to the Trump Impeachment Trial in the SenateTrump Adds Ken Starr, Alan Dershowitz to Impeachment Defense Team
No House Republicans voted in favor of the articles, and a small number of Democrats broke with their party to vote against one or both articles. Democratic presidential candidate Tulsi Gabbard voted present in protest of the House-led effort, which she called a "partisan endeavor."
A brief that was submitted to the Senate before the trial shows that Trumps lawyers are set to make the argument that both articles of impeachment against the president were constitutionally deficient, while potentially endangering the future office of the presidency and upsetting the governments balance of power.
"House Democrats were determined from the outset to find some way—any way—to corrupt the extraordinary power of impeachment for use as a political tool to overturn the result of the 2016 election and to interfere in the 2020 election," Trumps lawyers wrote. "All of that is a dangerous perversion of the Constitution that the Senate should swiftly and roundly condemn."
The Trump legal teams filing comes after House Democrats submitted their brief that essentially summarized weeks of testimony from witnesses. Trumps team includes HarvaRead More – Source
[contf]
[contfnew]

[contfnewc]
[contfnewc]