The Russian Foreign Ministry has called upon the US to stop supporting radical nationalists in Ukraine. It said recent attacks on the Russian Cultural Center in Kiev were inspired by US seizures of diplomatic property.
Read more
The comment was published on the Facebook page of the Russian embassy in Washington soon after a group of radical Ukrainian nationalists attacked and vandalized the building in Kiev housing the Russian Cultural Center, which is no longer guarded by Ukrainian police. The attacks took place for two days in a row. According to the Russian delegate to the Organization for Security and Cooperation in Europe (OSCE), Aleksandr Lukashevich, only the presence of monitors from this group prevented the Ukrainian attackers from setting the building on fire.
"This latest crime was not the first case in which radicals attacked the Russian diplomatic offices in Ukraine. These attacks have been happening for several years already. And so far we have not heard a due appraisal or denunciation of these actions from the American authorities," the comment reads.
"We cannot exclude that the radicals are guided by Washington's own example in the form of seizing of Russian diplomatic property," the embassy added.
Read more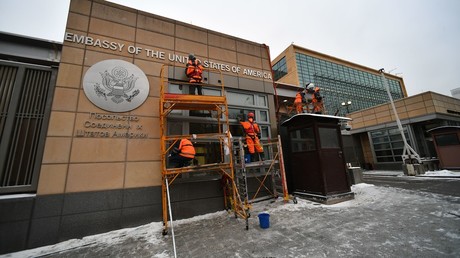 The comment went on to criticize the general aggressive nationalistic course of the Kiev regime, which actively fosters among the population the image of Russia as the main external enemy. It has also approved of attacks on Russian citizens and property and repressions against the Russian Orthodox Church, Russian language and culture. It added that various repressions against the freedom of press, including direct attacks on journalists and bloggers have become commonplace in Ukraine.
"We expect Washington officials to stop their practices of supporting 'caveman nationalism', not only in Ukraine, but also in other Eastern European countries. The events in Kiev demonstrate that this can result in pogroms and an escalation of xenophobia and extremism," the statement said.
On Sunday, the head of the Russian upper house Committee for International Affairs, Senator Konstantin Kosachev, expressed indignation over the behavior of Ukrainian radical nationalists as well as lack of action on the part of Ukrainian law enforcement agencies. He noted that Russian cultural centers needed guarantees from Kiev to continue their operations in Ukraine. He added, though, that he personally doubted that such guarantees would ever be given, "because there is no doubt that the nationalists are committing their outrage with the silent approval of the Ukrainian authorities."
[contf] [contfnew]
[contfnewc] [contfnewc]