US authorities have no moral right to demand the release of convicted inmates, because Washington itself has been convicting Russian citizens in violation international law, Russian diplomats have stated.
The Russian embassy in Washington released the statement as a reply to the resolution, in which the US Department of State demanded that the Russian authorities immediately release all people who the international rights groups recognize as political prisoners or prisoners of conscience.
"Russia has repeatedly and unambiguously replied to the propaganda stunts in which the western countries called upon the release of certain people suspected or convicted of various serious crimes under our laws," reads the embassys statement posted on Facebook. The Russian diplomats added that their US colleagues who had simultaneously voiced the demands could not be unaware of the Russian position that prioritizes categorical rejection of any attempts to interfere with the countrys internal affairs.
In the same message the press service reminded that some of the people mentioned by the US State Department and international NGOs in their demands had been convicted of grave crimes, including terrorism. "Terrorists cannot be bad in the United States and at the same time be good in Russia. If we practice such approach we would never defeat terrorism," they wrote.
Read more
Washington uses such notions as freedom of conscience of democratic values only when they need to justify the behavior of groups that are recognized as extremist in other nations or organizations engaged in inciting hatred or strife or in illegal entrepreneurship, the embassy representatives wrote.
In mid-2017 the upper house of Russian parliament – the Federation Council – set up a special commission for monitoring and countering foreign nations attempts to influence internal Russian politics. Back then, upper house Speaker Valentina Matvienko said that attempts to meddle in Russias internal affairs had been ongoing for years and that up to $100 billion was sent to Russia from abroad annually to sponsor "political activities."
Read more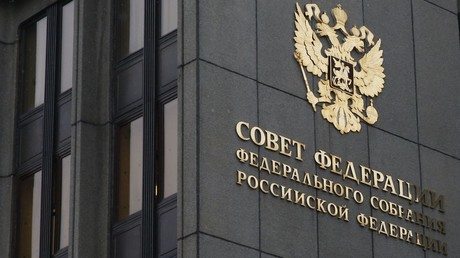 In February this year the commission released a report that mentioned over 100 cases of US interference in other nations internal affairs since the end of World War Two. One particular example named in the list is the 1973 coup detat in Chile that installed Augusto Pinochet as a military dictator and as a result of which the countrys parliament was dissolved and numerous human rights violations were committed. "Every such fact has a multitude of episodes of the US interference," he noted.
At the same time, Russian senators noted that not all cases of US involvement in other nations affairs could be formally described as such and thus were not included in the report. As an example, he named Donald Trumps inauguration speech, in which the US president said that Washington was constantly meddling in other nations affairs and called for an end to such practices.
Like this story? Share it with a friend!
[contf]
[contfnew]

[contfnewc]
[contfnewc]