byAllum Bokhari18 Jan 20180
#ReleaseTheMemo was a trending Twitter topic on Thursday evening as public concern over alleged Obama-era abuse of government surveillance power mounted.
The hashtag quickly accumulated over 300,000 tweets, trending worldwide and in the United States.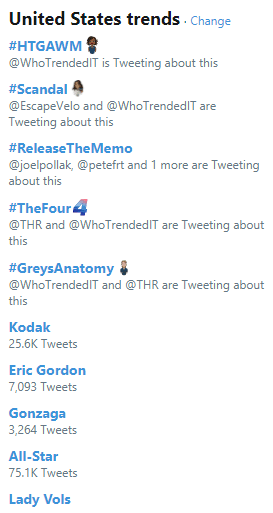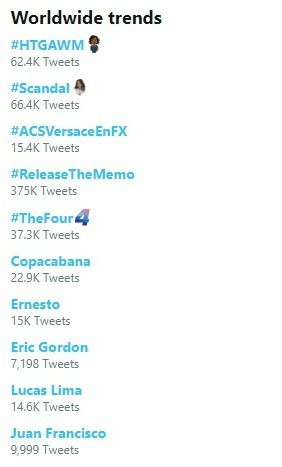 Users took to social media to demand the release of a four-page memo currently circulating in Congress, allegedly revealing government surveillance abuses under the Foreign Intelligence Surveillance Act (FISA).
Republican lawmakers have described the memo as "shocking" and "alarming." Ohio Representative Jim Jordan said the American people "have to see this."
Pennsylvania Rep. Scott Perry said, "You think about, 'Is this happening in America or is this the KGB?' That's how alarming it is."
As the topic trended on Twitter, politicians and commentators alike called for the memo to be released to the public, with Rep. Steve King of Iowa calling it "worse than Watergate."
I have read the memo. The sickening reality has set in. I no longer hold out hope there is an innocent explanation for the information the public has seen. I have long said it is worse than Watergate. It was #neverTrump & #alwaysHillary. #releasethememo

— Steve King (@SteveKingIA) January 19, 2018
Rep. Matt Gaetz of Florida said he believed people would "go to jail."
"I think that this will not end just with firings. I believe there are people who will go to jail. You don't get to try to undermine our country, undermine our elections and then simply get fired." #ReleaseTheMemo#ReleaseTheDocumentshttps://t.co/M6HwVVw3Qk

— Rep. Matt Gaetz (@RepMattGaetz) January 19, 2018
"Americans deserve the truth," wrote Rep. Mark Meadows of North Carolina.
I viewed the classified report from House Intel relating to the FBI, FISA abuses, the infamous Russian dossier, and so-called "Russian collusion." What I saw is absolutely shocking.

This report needs to be released–now. Americans deserve the truth. #ReleaseTheMemopic.twitter.com/oP2UNujKQL

— Mark Meadows (@RepMarkMeadows) January 19, 2018
Other lawmakers joined the chorus of voices calling for the memo to be released to the public.
Immediately #ReleaseTheMemo#FISAMemo & ALL relevant material sourced in it. Every American needs to know the truth! We wouldn't be revealing any sources & methods that we shouldn't; only feds' reliance on bad sources & methods.

— Lee Zeldin (@RepLeeZeldin) January 19, 2018
Just read the Intelligence Committee memo. The public has a right to know the information regarding the FBI and the DOJ. #releasethememohttps://t.co/KGicKGjqO5

— Raúl R. Labrador (@Raul_Labrador) January 19, 2018
Read the CLASSIFIED @HouseIntelComm memo on repeated FISA warrant abuses. The truth may not set the guilty free but it needs to come out. Release the #FISAMemo: https://t.co/7fkXI1pl0y

— Louie Gohmert (@replouiegohmert) January 19, 2018
Wikileaks urged those with access to the memo to leak it if it is not released voluntarily.
#ReleaseTheMemo: Do you know someone who has access to the FISA abuse memo? Send them here: https://t.co/cLRcuIiQXz

WikiLeaks will match reward funds up to $1m sent to this unique Bitcoin address: 3Q2KXS8WYT6dvr91bM2RjvBHqMyx9CbPMN

or marked 'memo2018': https://t.co/lmsmphuH2Npic.twitter.com/j1YEkXqi2S

— WikiLeaks (@wikileaks) January 19, 2018
You can follow Allum Bokhari on Twitter, Gab.ai and add him on Facebook. Contact him securely at [email protected]
[contf] [contfnew]
[contfnewc] [contfnewc]