Russian President Vladimir Putin says that raising the standard of living will be a key task in the coming years, but also acknowledged the importance of strengthening the nation's defenses.
Read more
"The main thing that we will be working on is of course the internal agenda. First of all we must ensure the growth rate for the economy and make it an innovative one. We must develop healthcare, education, industrial production, infrastructure and other branches that are crucial for moving our country forward and increasing the living standards of our citizens," Putin said in a Monday meeting with people in senior positions at his election headquarters.
"Workforce productivity is a key issue. Let us work on this agenda together!" he said.
"Of course, there are also issues connected with the national defense and security, we cannot do without them, but still the internal agenda is of primary importance today," the president added.
Read more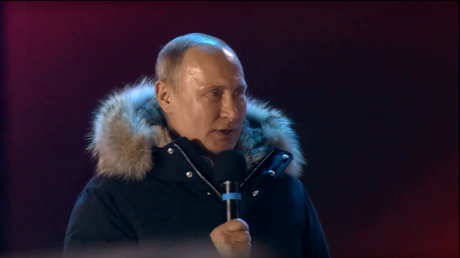 Putin also promised that those who worked in his election HQ would take an active part in discussions of Russia's future development.
In the early hours of Monday, Putin met with journalists in his election headquarters and was asked about his plans concerning the government and its chairman, Dmitry Medvedev. He answered that he did not plan to make any announcements before his inauguration, which should take place 30 days after the official election results are announced.
"As for the chairman of the government and the government as a whole, of course I am thinking about it, but I will be weighing all exact details starting today, because I had to wait for the poll results to arrive," he said. "All changes will be announced after the inauguration."
[contf]
[contfnew]

[contfnewc]
[contfnewc]