Around 55 percent of Russians believe the authorities are waging a successful war against corruption, with 47 percent saying that arrests of senior officials for bribery are the best proof of this.
In a survey conducted by state-run VTSIOM agency in late May, 55 percent of the respondents said they have noticed the positive results of the nationwide anti-corruption campaign; 25 percent said they cannot see the results of the campaign, and 13 percent said the situation with corruption is getting worse.
Read more
When asked what the most obvious result of the anti-corruption campaign is, 42 percent mentioned the arrests of senior officials. On the other hand, 47 percent described the high-profile cases as "show trials, settling of accounts between civil servants or conflicts between competing power groups."
On the question of what businesses and spheres of life were especially prone to corruption, 24 percent said the problem was spread evenly throughout society. Around 23 percent replied that healthcare is the most corruption-ridden sector of economy, 16 percent said the police, and another 16 percent said communal services. Around 14 percent say the most corrupt people work in courts and local bodies of executive power.
The head of VTSIOM, Konstantin Abramov, said in comments that popular opinion in Russia has seen some positive shifts in the situation with corruption since a few years back. He also noted that average Russians still think the levels of corruption in the country are very high, and that the problem is one of the major challenges facing the authorities.
Read more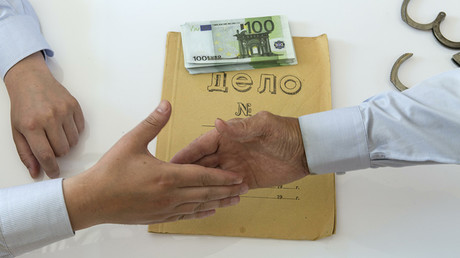 On January 1, Russia introduced a law requiring all officials fired from their posts over involvement in corruption to be placed in a nationwide internet register to prevent them from re-entering public service. The new rules apply to civil servants at the federal and municipal levels, military personnel, law enforcement agents, state corporations, and other state organizations, such as the central bank.
When the bill was still in parliament, its sponsors revealed statistics showing that between 2012 and 2015, about 1,200 people were dismissed from their jobs in Russia for violating corruption rules or restrictions. In early December of last year, Russian Prosecutor General Yuri Chaika said in a newspaper interview that his agency estimated the overall economic cost of corruption at more than $2.5 billion in the past two years.
Think your friends would be interested? Share this story!
[contf]
[contfnew]

[contfnewc]
[contfnewc]