Supporters of the anti-corruption blogger turned opposition figure, Alekesey Navalny, have made another attempt to register their own political party – only revealing its name at the founding convention to prevent a hijack.
The convention was held at the weekend in one of Moscows business centers. It was attended by 124 deputies from 60 Russian regions, well over the law-required minimum. However, Navalny himself was not present – in mid-May the activist was sentenced to 30 days of civil arrest for repeated violations of the law on rallies and refusal to comply with police orders.
The head of the legal department of Navalnys NGO Foundation for Countering Corruption, Ivan Zhdanov, told convention participants that the founding team was expecting representatives of the Justice Ministry (which registers new political parties) but they did not attend the event. It is not clear if this statement was meant as a joke, but Navalnys supporters laughed when it was made.
Read more
Zhdanov went on to say that the Navalnys political party is already over five years old and this is more than the age some of the officially registered political projects. He concluded that because of this fact the authorities "simply must" register the new party.
The weekend convention voted for "Russia of the Future" to be the name of the party.
Before the convention Navalnys allies and reporters referred to the new party as "Working Title" as this was the actual name written in registration papers which had been filed in the Justice Ministry. The founders explained such choice as an attempt to prevent a hijack of the party name, an unfortunate accident that has already happened to Navalnys team twice.
Read more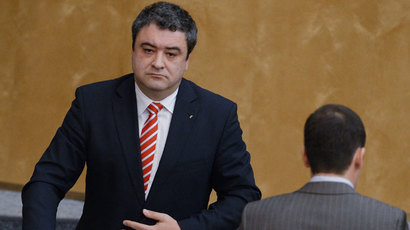 In December 2013, Russian political consultant and Grand Master of Russias Great Masonic Lodge, Andrey Bogdanov, successfully re-registered his Rodnaya Strana (Native Country) party under the name "Peoples Alliance." This ended Navalnys efforts to found a political party, as he wanted the name for his own project. Russian law prohibits public organizations from having the same or very similar names.
Navalny tried to sue his opponents but failed and announced that his party would be called "Party of Progress." The registration of the party under the new title lingered until March 2018 when it stopped because the Justice Ministry gave the very same name to the group earlier known as the Civil Initiative Party, whose representatives filed in a renaming request two days before Navalnys allies.
Navalny addressed the European Court of Human Rights with a complaint, but no decision has been made on it so far.
Like this story? Share it with a friend!
[contf]
[contfnew]

[contfnewc]
[contfnewc]