The council of political parties with the Moscow City Government is developing a law on the status and rights of homeless people. One of the main goals of the bill is to protect tourists from potential crime by the homeless.
The head of the council, Yelena Morozova, told the Moskva agency that the work on the bill had been restarted because it would help to protect tourists from possible criminal actions of the homeless.
She also explained that the development of the draft was hindered by the fact that it required cooperation between various state agencies from different regions, because homeless citizens are usually registered somewhere. Morozova noted, however, that despite all difficulties the bill was necessary and important as it had, among other things, "humanitarian importance."
Read more
"We cannot just evict them all to regions a 100km away from city limits, like they did at the time of the 1980 Moscow Olympics. But at the same time we must create conditions for the guests of our capital, both the sanitary conditions and protection from possible criminal actions," she said. "Of course we must look into this issue, but we must also create mechanisms that would also help those homeless who want to return to traditional life," she said.
Earlier, the council of political parties with the Moscow City Government reported that it was developing a bill on homeless people that would order a register of such people and describe the mechanism under which they would receive social aid in return for some communal work. The draft also allowed for the homeless who persisted in their way of life to be evicted to remote regions, drafted in the military or kept in special "closed centers." This bill has not yet been finished and considered by Moscow legislature.
Read more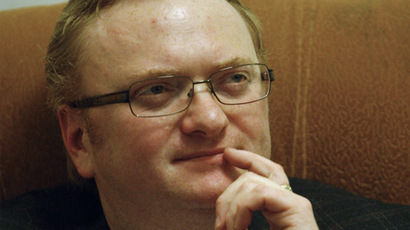 In February this year State Duma Deputy Vitaly Milonov of the parliamentary majority party United Russia told reporters that he was preparing a bill to create an agency that would deal with homeless people and help them reintegrate into society.
The lawmaker added that the need for the agency arose from the fact that the problem of homeless people and beggars lied outside the powers of every Russian ministry that ought to deal with it, such as the interior, healthcare, and labor ministries.
Milonov said that as well as setting up a dedicated state agency, he wanted to restore the state infrastructure aimed at reintegrating homeless people and beggars into society, and provide aid to various NGOs and volunteer groups engaged in this work. The initiative was met with limited enthusiasm by federal lawmaking bodies but has still not been implemented in reality.
Think your friends would be interested? Share this story!
[contf]
[contfnew]

[contfnewc]
[contfnewc]