House ­Minority Leader Kevin McCarthy (R-Calif.) has criticized House Speaker Nancy Pelosi (D-Calif.) and other House Democrats after they announced a formal vote on the impeachment inquiry into President Donald Trump.
"Its been 34 days since Nancy Pelosi unilaterally declared her impeachment inquiry," McCarthy said in a tweet Monday afternoon after Pelosi announced the vote.
"Todays backtracking is an admission that this process has been botched from the start," he added. "We will not legitimize the Schiff/Pelosi sham impeachment."
Related Coverage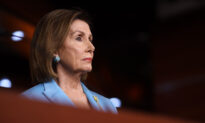 READ: Full Text of Impeachment Process Resolution
Pelosi announced Monday that the House would vote on an impeachment process resolution, H. Res. 660, concerning how the impeachment inquiry will move forward against Trump. It will be the first formal vote on the impeachment process after Pelosi announced the inquiry on Sept. 24.
The text of the resolution was published on Tuesday. It lays out basic procedures for public hearings on the impeachment inquiry.
According to reports, the House Rules Committee will look at the bill on Wednesday before bringing it to a full House vote on Thursday.
House Majority Leader Steny Hoyer (D-Md.), who controls the House floor schedule, said on Tuesday that the measure is "not an impeachment resolution" and that it might not be "ready to go on Thursday," according to the Washington Examiner. Pelosi also told reporters Monday that the planned vote was "not an impeachment resolution," the outlet reported.
The Democrats launched the impeachment inquiry late September without the backing of a majority House vote—a move unprecedented in the history of the United States. The impeachment inquiry was launched based on media reports in September about an anonymous persons complaint against Trump over a July phone call Trump had with and Ukrainian President Volodymyr Zelensky.
Pelosi announced the inquiry on Sept. 24 without having reviewed the call transcript, which the White House released on Sept. 25.
Republicans and Trump have accused Democrats of not being transparent in the process, by carrying out the impeachment inquiry via secret depositions and leaking information to the media.
On Tuesday, White House press secretary Stephanie Grisham slammed the House Democrats resolution bill. She said it confirms that the impeachment inquiry "has been an illegitimate sham from the start as it lacked any proper authorization by a House vote."
Grisham added that the impeachment resolution "continues this scam by allowing [House Intelligence Chairman Adam Schiff (D-Calif.)], who repeatedly lies to the American people, to hold a new round of hearings, still without any due process for the President.
"The White House is barred from participating at all, until after Chairman Schiff conducts two rounds of one-sided hearings to generate a biased report for the Judiciary Committee. Even then, the White Houses rights remain undefined, unclear, and uncertain—because those rules still havent been written," she continued.
"This resolution does nothing to change the fundamental fact that House DemocrRead More – Source