The Russian Interior Minister has told reporters that the state anti-drug policy had yielded some good results over the past years, but added that the number of people involved in the illegal drug trade remains high.
"Officially, there are about 500,000 Russian citizens who are registered with the Healthcare Ministrys rehab clinics as those who are in some way involved in drug addiction. This is the official figure, but sociological research shows that about 2 million of our compatriots are involved in this," Vladimir Kolokoltsev said in his recent interview with the Russian news channel NTV.
Read more
According to the Russian state statistics agency, Rosstat, the countrys overall population as of January 1, 2018 was slightly under 147 million. The minister also said in the interview that, as far as he is aware, the war against illegal drugs was successful and gradually brought positive results. In particular, he mentioned one large international criminal group that was uncovered in 2017.
"They have been working on Russias territory for 10 years, they even had their own "power bloc" for solving various issues. For the first time in [Russian] history the head of this syndicate was sentenced to life in prison for his crimes.
"14 people received sentences between six and 25 years in prison and 12 more are still on the international wanted list. This is pre-planned and gradual work, we really do step up our effort," he said.
Earlier, Russian Health Minister Veronika Skvortsova told the press that, according to her ministrys calculations, the number of drug addicts in Russia decreased by 17 percent between 2010 and 2017.
Read more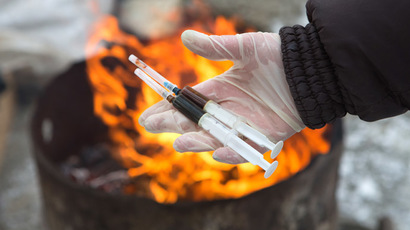 Russia currently has a relatively lenient drug policy with possession of small amounts of banned substances for personal use being punished only by fines under civil code. Compulsory treatment for addicts is possible, but requires a court order. At the same time, Russian officials have repeatedly ruled out the possibility of legalization of so-called soft drugs and replacement therapy saying that such moves would destroy the progress achieved in the war on drugs over the past years.
A public opinion poll conducted by the state-run agency VTSIOM in mid-2017 showed that almost 80 percent of Russians wanted to bring back criminal penalties for illegal drug use, and only six percent confessed in support of legalizing the use of soft drugs.
At the same time, about 43 percent of Russians said they consider drug addiction a form of illness that can and should be cured. Only 28 percent said that all addicts are potentially dangerous and should be kept in isolation.
Like this story? Share it with a friend!
[contf]
[contfnew]

[contfnewc]
[contfnewc]