OSCE representatives say the procedures of the Russian presidential election were well organized and without any major rigging, but that the unequal media presence of the candidates resulted in a "lack of genuine competition."
A preliminary report by monitors from the Organization for Security and Cooperation in Europe was released on Monday, on the day after the election and before the announcement of the official results.
Read more
"Choice without real competition, as we have seen here, is not real choice. The Central Election Commission's professional and efficient administration of the technical aspects of the election deserves recognition," the head of the observer mission, Michael Georg Link, said in the report.
"But where the legal framework restricts many fundamental freedoms and the outcome is not in doubt, elections almost lose their purpose – empowering people to choose their leaders," he noted.
The European observers said that all eight candidates could campaign freely, but also alleged that incumbent President Vladimir Putin received more media coverage, which made the competition uneven. At the same time, they said that Russian election laws are in line with the latest recommendations from the OSCE's Office for Democratic Institutions and Human Rights (ODIHR) and that this ensured greater competition.
Read more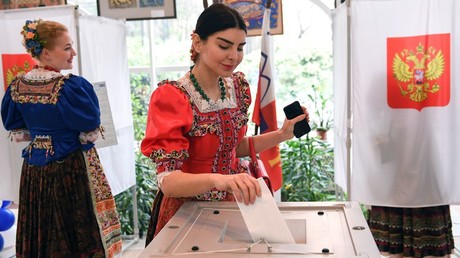 Observers from the OSCE and other international groups, foreign legislatures, and Russian political parties and NGOs said they have general confidence in the accuracy of voter lists and welcome legal changes enabling voting in polling stations away from people's permanent place of residence.
One foreign observer, Italian representative in the European Parliament Stefano Maullu, said that the election displayed a good result for democracy in Russia.
"Everyone recognizes the fact that Russia has achieved the level of very wise democracy, everyone recognizes this good result for Russian democracy and its president," MEP Maullu was quoted as saying by TASS at a Monday meeting with the head of the Upper House committee for international relations, Konstantin Kosachev.
[contf]
[contfnew]

[contfnewc]
[contfnewc]