Russia's lower house of parliament has passed a second reading of a bill of reciprocal sanctions against unfriendly foreign states, but delayed hearings into criminalizing compliance with foreign sanctions.
The bill on counter-sanctions was drafted by State Duma speaker Vyacheslav Volodin and the heads of all four parliamentary caucuses in mid-April, soon after the United States introduced the latest restrictions on Russian citizens and companies.
The initial document contained a long list of proposed restrictions, such as full suspension of cooperation with US companies in the nuclear, missile and aircraft-building spheres, a ban on purchasing US securities, trade embargo on US goods (in particular tobacco and alcohol), and the proposal to allow Russian companies to produce various goods copyrighted in the US or in countries allied with the US without getting licenses from copyright holders.
Read more
The bill ordered reciprocal restrictions not only against the US, but also on all nations that take part in the current US-led anti-Russian campaign.
However, the exact provisions of the bill caused objections from government experts, mass media and general public. Opponents noted for example that the proposed ban on imports of US medical products would do more harm to Russian patients than to US big pharma firms.
As a result, the State Duma removed any mention of particular restrictions from the bill and rewrote it in such way that the exact decisions of counter-sanctions should be made by the Russian government.
Also on Thursday Russian lawmakers decided to postpone hearings into another bill that describes reaction to sanctions imposed by the US and their allies. The draft orders that criminal charges, with punishments up to four years in prison, should be issued against anyone who complies with the foreign sanctions on Russian territory or helps to enforce them.
Read more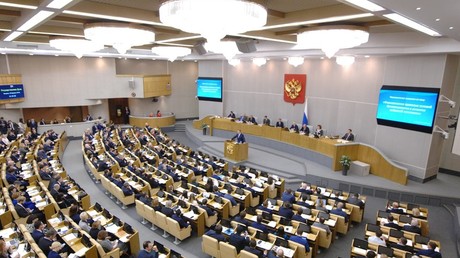 The bills sponsors had previously explained that the new rules could target banks, retail chains or mobile service operators that work on the territory of the Russian Federation but refuse to work in Crimea or financial organizations that refuse credits to Russian companies that are on the US sanctions list.
This bill caused criticism by Russian businessmen and rights activists. The head of the Presidential Council for Human Rights, Mikhail Fedotov, noted that the current loose formulas allowed prosecution of almost any Russian citizen.
Russian Union of Industrialists and Entrepreneurs said that the bill was putting Russian businessmen between a rock and a hard place – violating the Western sanctions law would lead to prosecution abroad and compliance with them would cause prosecution in Russia. The new hearing into the bill on criminalization of compliance with anti-Russian sanctions is scheduled for May 23.
[contf]
[contfnew]

[contfnewc]
[contfnewc]