The Chechen minister for ethnic policy has said Russian men should stop being hypocritical and openly live with several wives if they feel the need to be polygamous – but denied reports police were ordered to get second spouses.
"Men should not be hypocritical. If there is a necessity for one more woman in your family – apart from your lawfully-wedded wife – you should do this honestly and openly. Men will have second, third and fourth wives anyway," Djambulat Umarov told Russian Dozhd (Rain) TV.
Read more
The minister noted that there are more women than men in the predominantly-Muslim Chechen Republic and sometimes one man marries two, three or four women – albeit without registering this with state agencies. "We do not oppose this as this is a very personal thing. There is nothing illegal in such actions and everything is done by mutual consent and by the Almightys will," Umarov told journalists.
At the same time, officials denied a report in which Radio Liberty claimed that all Chechen police officers had been ordered to find a second wife within a month under threat of dismissal. Radio Liberty referred to a message circulated in a Whatsapp messenger chat and theorized that it could originate from "one of the police bosses."
Minister Umarov explained that if such an order existed it itself would be a violation of the law and suggested that the reporters had described someones joke. "I dont know where Radio Liberty gets this information. Of course, it has nothing to do with reality, it is absurd," he said.
Read more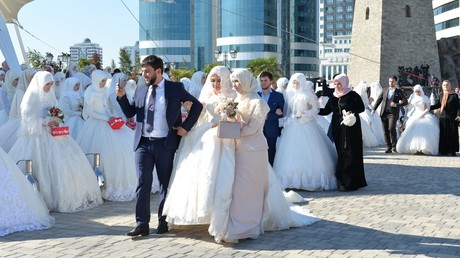 In April this year the head of the Chechen Republic, Ramzan Kadyrov, denied media reports about plans to officially legalize polygamy, but added that Islam already allowed Muslim men to have four wives. Kadyrov said: "No, I have never said this. But it is not me who should give such permission to a Muslim person. The Almighty has already given permission [for men] to have four wives."
In the same interview Kadyrov also attacked state registration of marriage as "the first step taken within the law to destroy the family." He elaborated on his position by saying that the need to have a document certifying a marital union is the first sign of a lack of trust between a man and a woman.
It was not the first time the Chechen leader has publicly advocated de facto polygamy and criticized the institute of civil marriage. In a 2010 interview with RT, he said that the Muslim tradition of polygamy reduced sexual promiscuity and prostitution. In 2017, he again told RT that he personally viewed a married man having a mistress as much worse than polygamy.
Think your friends would be interested? Share this story!
[contf]
[contfnew]

[contfnewc]
[contfnewc]