WASHINGTON—Pete Buttigieg, who rose from being an Indiana mayor to a barrier-breaking, top-tier candidate for the Democratic presidential nomination, ended his campaign on Sunday.
"The truth is the path has narrowed to a close for our candidacy if not for our cause," Buttigieg told supporters in South Bend, Indiana. "We must recognize that at this point in the race, the best way to keep faith with those goals and ideals is to step aside and help bring our party and country together."
Thank you for inviting me into your homes, sharing your stories, and putting your trust in me. We launched our campaign because Americans are hungry for a new kind of politics that brings us together.

And together well beat this president and build the era that must come next. pic.twitter.com/QDajvx1lpL

— Pete Buttigieg (@PeteButtigieg) March 2, 2020
The decision came just a day after one of Buttigiegs leading rivals, former Vice President Joe Biden, scored a resounding victory in South Carolina that sparked new pressure on the partys moderate wing to coalesce behind Biden.
President Donald Trump commented on Twitter that while giving Biden a boost, the move would negatively impact current front-runner Bernie Sanders chances to win the Democratic nomination.
Pete Buttigieg is OUT. All of his SuperTuesday votes will go to Sleepy Joe Biden. Great timing. This is the REAL beginning of the Dems taking Bernie out of play – NO NOMINATION, AGAIN!

— Donald J. Trump (@realDonaldTrump) March 1, 2020
Buttigieg had been critical of Biden, charging that the 77-year-old lifelong politician was out of step with todays politics. But his criticism had shifted in recent days more toward Sanders, a polarizing progressive who was benefiting from the sheer number of candidates dividing up the moderate vote.
Buttigieg and former Vice President Joe Biden traded voicemails on Sunday but did not speak, according to a source with knowledge of the attempted conversations. Buttigieg made the first call to tell Biden of his decision, then Biden returned the call. The pair missed each other because of travel logistics.
Buttigieg, a 38-year-old Afghanistan war veteran and the first openly gay candidate to seriously contend for the presidency, tried to make the case that his party thrived when it embraced candidates who offered generational change. But he ended up being more successful at winning older voters while Sanders, 78, captured the energy of younger ones.
Related Coverage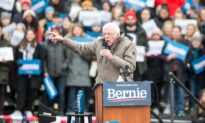 Sanders to Capture the Most Delegates on Super Tuesday, Polls Indicate
"The Pete Buttigieg story isnt over. Its just beginning," said Democratic strategist David Axelrod. "Hes 38 years old. Hes vaulted himself into the national conversation. He obviously has work to do on some things that—some weaknesses weve seen in this election—but whenever there is a conversation again about Democratic candidates, hell be in that conversation. And thats a remarkable achievement, given where he started a year ago."
Voters saw Buttigieg in the more moderate lane of the Democratic field, and he flourished early with a top finish in the Iowa caucuses and a close second place finish in New Hampshire. But as the race moved to more diverse states, less dependent on college-educated voters, Buttigieg struggled.
Despite robust organizations in Iowa and New Hampshire and supporters who included an influx of former independents and Republicans, Buttigieg failed to overcome daunting questions about his ability to draw African American support key to the Democratic base.
He earned just 3 percent of the nonwhite vote in South Carolinas Saturday primary, according to AP VoteCast, a a wide-ranging survey of the electorate.
As mayor of a city that is 25 percent black, Buttigieg faced criticism for firing the first African American police chief in the history of South Bend and for his handling of the case of a white police officer who fatally shot an armed black man in June.
A Black Lives MatterRead More – Source
[contf]
[contfnew]

[contfnewc]
[contfnewc]